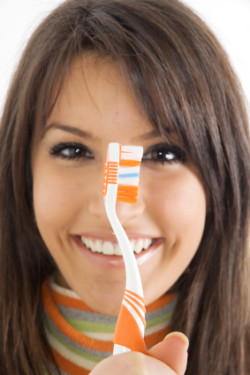 We believe that the best way to take care of our patients is to start with a foundation of good dental health. Every visit begins with a thorough examination of your teeth and gums as well as other areas of your mouth and head and neck. Dr. Wilson and his staff will educate you about your dental health, learn about your concerns and discuss with you what you want or need from your dental appointments, whether restorative care and maintenance or cosmetic dental enhancements.
Periodontal disease, or simply gum disease, is the single most common cause of tooth loss in adults. This inflammatory disease attacks the gums, bone and other supporting structures of the teeth. Gum disease is caused by plaque, a colorless film of bacteria that forms on the teeth. Plaque mixes with sugars and starches in the diet to form acids and other by-products in the mouth, irritating the gums and causing them to become red, tender and swollen causing the gums to bleed easily. If not removed daily, plaque hardens to form calculus (tartar) around the necks of the teeth.
The irritants in plaque can destroy the tissue that attaches the gums to the teeth. The gums pull away from the teeth and small pockets become filled with more plaque. As the pockets deepen, it becomes impossible for you to clean the plaque out. Eventually, the bone structure supporting the teeth can be destroyed.
Regular, thorough brushing and flossing is very important in preventing tooth decay and gum disease. Brushing removes the bacteria that promote tooth decay and the main cause of gum disease but if you don't floss, you are missing more than one-third of your tooth surface. If this plaque is not removed daily, within 24 to 36 hours this plaque hardens into tartar, which can only be removed by professional cleaning. By flossing at least once a day the plaque will never get the chance to harden. Getting into the habit of daily flossing is very difficult for a lot of people. You can make this task easier on yourself by leaving some floss on the coffee table. Do it while you watch TV or when you're listening to music. We can help you establish a routine of daily cleaning and preventive visits to keep your oral health good for life!
Do You Have Gum Disease?
It affects 75% of adults over the age of 35, and up to 30% of the population may be genetically susceptible. Tobacco use, stress, medications, systemic disease, or fluctuating hormonal levels during puberty, pregnancy, or menopause can all affect the health of your gums. Have you noticed some tell tale signs…
GUMS THAT BLEED EVEN SLIGHTLY WHEN YOU BRUSH AND FLOSS YOUR TEETH.
PERSISTENT BAD BREATH OR A CONSTANT BAD TASTE IN YOUR MOUTH.
SWOLLEN OR TENDER GUMS THAT APPEAR REDDER THAN USUAL.
GUMS THAT APPEAR TO HAVE PULLED AWAY (RECEDING) FROM YOUR TEETH.
TEETH THAT ARE LOOSE OR SEEM TO BE CHANGING POSITION.