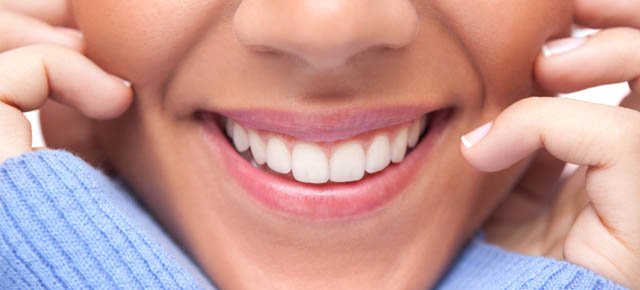 Bonded Resin Fillings
Bonded composite (white) fillings have been used for many years however their chemical make-up and the bonding agents used today have improved drastically. They are being used to close undesirable spaces, improve the shape, size and color of a tooth, replace an unsightly amalgam restoration, cover abraded or worn areas of a tooth (usually at the gum line) and to cover stains. Composites can also be used to repair and strengthen broken teeth.
These fillings require a lot more time than the silver/mercury fillings because of the number of technique sensitive steps involved. Composite or "white" fillings are much more conservative. Less of your natural tooth structure will need to be removed. They are chemically bonded to the remaining tooth holding it together rather than simply filling the space as the amalgam filling does which results in a stronger tooth that looks great! They have a much more natural and aesthetic appearance.
Once the tooth has been prepared, the bonding agents are placed on the tooth and then the composite material is placed incrementally into the tooth. All these materials are hardened by exposure to a special (bright blue) curing light. The restoration is then contoured to fit the bite perfectly and polished.
Porcelain Veneers
Porcelain Veneers are a simple and effective way to dramatically improve the appearance of your smile. They are ultra thin pieces of strong, tooth shaped porcelain.
At your first appointment the front of the tooth will be prepared to create a good surface to adhere the veneer to. Impressions are taken and temporary veneers are placed and worn while the permanent veneers are being fabricated by the dental technician in the laboratory. This is usually about 2 weeks.
At the second appointment the temporary veneers are easily removed , the teeth are cleaned off and prepared with a mild etching gel to roughen the enamel prior to placement. The bonding solution in applied between the tooth and the veneer and a bright blue light called a curing light is used to set or harden the bond.
With proper care and maintenance your new veneers will last for many years but  are not permanent and will someday have to be replaced. They are a great option to close gaps between teeth, repair damaged, discolored or crooked teeth. If you think Porcelain Veneers are what you would like to improve your smile please call us today for a consultation and more information. See some before and after cases in our Smile Gallery!
Whitening
Whitening or Bleaching is a cosmetic procedure to lighten the colour of your teeth and completely harmless. In the office the assistant will take impressions of the teeth and make flexible custom bleaching trays that fit snuggly over your teeth. We'll give you instructions and and 10 syringe kit to take home. This procedure works very well and we've seen some great results.